Fishing and Ontario: A Perfect Match
Ontario is a truly amazing province. Not only is it the largest province in the country of Canada, it also has a wide and varied landscape that goes from sub-arctic to the nice warm region of the Great Lakes. In addition, it has more lakes pretty much any place on Earth. There are roughly 250,000 lakes in the country and that means that no matter what kind of fish you like to angle for, you will find them in Ontario, with plenty of lakes to choose from. Just a couple of examples of this include: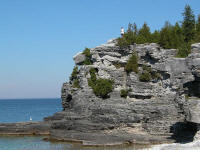 • 2,000 lakes in the province contain lake trout.
• 3,500 lakes in the province contain walleye.
• 400 lakes/rivers in the province contain muskellunge.
It should come as no surprise that fishing is such a big industry in the province. Each year, 1.27 million anglers go to Ontario to fish, and they spend $2.5 billion on fishing-related expenditures. It can literally be said that there is probably no other place on Earth where you can have such a varied experience freshwater fishing, as you can in Ontario.
So, let's look at what you can expect when you fish different varieties of fish within the province of Alberta. One thing is certain, no matter the freshwater fish you want to catch; you can probably find it in Ontario.
Click here to get information from a variety of Fishing Lodges